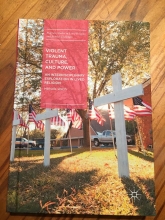 LESSONS OF CULTURE, POWER, AND TRAUMA RESPONSE
#425 3:15 p.m. – 4:30 p.m. room 221
Sponsored by the UU Society for Community Ministries and 
the UU Trauma Response Ministry
Risks of exposure to trauma through violence or natural disasters are increasing in this era of climate change and racial and economic turbulence and injustice. Come learn practical take home lessons of culture and power from a Boston-based urban organization serving families after homicide as well as from the UUTRM's work during and after Hurricane Katrina and in the aftermath of the Knoxville church shooting from 2008. 
These speakers have been brought together for this special ONE-TIME opportunity workshop at this year's General Assembly as a result of studies of the Louis D. Brown Peace Institute and the UU Trauma Response Ministry conducted by Rev. Dr. Michelle Walsh and published in her book: Violent Trauma, Culture, and Power: An Interdisciplinary Exploration in Lived Religion. Rev. Dr. Walsh will serve as the facilitator for the discussion.
Chaplain Clementina M. Chéry. Louis D. Brown Peace Institute
Rev. Wayne S. Daley, Louis D. Brown Peace Institute
Rev. Susan Karlson, UU Trauma Response Ministry
Dr. Ted Jones, Tennessee Valley UU Church
 
Event Date:
Saturday, June 24, 2017 -